Whirlpool Washing Machine Error Codes
---
Whirlpool Washing Machine Error Codes
Whirlpool washing machines may display error codes to indicate issues with the appliance. However, specific error codes can vary between different models and series. It's essential to consult your washing machine's user manual for accurate information. Below are some common Whirlpool washing machine error codes and their general meanings. Keep in mind that these may not be exhaustive, and you should refer to your specific model's documentation for precise details:
F01 - EEPROM Error: There is a communication error between the electronic parts.

F02 - Drain Time Exceeds 8 Minutes: The washer has not drained after eight minutes.

F06 - Drive Motor Tachometer Error: The control is unable to properly detect motor speed.

F08 - Heater Fault (No Heat Detected): The heating element may be faulty or there could be a wiring issue.

F09 - Overflow Condition: The water level has exceeded the overflow level.

F11 - Communication Error: There is a communication error between the central control unit (CCU) and the motor control unit (MCU).

F20 - No Water Detected Entering Machine or Pressure Switch Trip Not Detected: Check water supply, water valve, and pressure switch.

F21 - Long Drain: The drain time has exceeded eight minutes; the water valves may be restricted or the drain pump may be faulty.

F22 - Residual Water Drain Issue: The washer has not drained completely after two or more drain cycles.

F23 - Heater Failure: The heater element is not working correctly.

F24 - Water Temperature Sensor Error: The water temperature sensor is not working properly.

F25 - Inlet Thermistor Error: The inlet thermistor is not working correctly.

F26 - Motor Drive System Failure: Motor failure or a failure in the drive system.

F28 - Communication Error Between the CCU and Motor Control Unit (MCU): Check wiring harness and connections between the CCU and MCU.

F29 - Door Unlock Error: The door unlock error is displayed when the door cannot be unlocked after the cycle is complete.
These codes are generic and may not cover all Whirlpool models. Always refer to your specific model's user manual or contact Whirlpool customer service for accurate information related to your washing machine.
WASHING MACHINE REPAIR, OVEN REPAIR, FRIDGE REPAIR IN NAIROBI, COOKER REPAIR, DISHWASHER REPAIR, TUMBLE DRYER REPAIR, WATER DISPENSER REPAIR, TELEVISION REPAIR...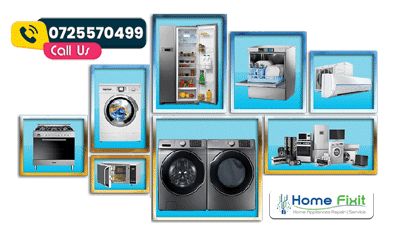 Get the best appliance repair services in Nairobi & Kenya. Whether it's a malfunctioning washing machine, refrigerator, cooker, oven, television, water dispenser, dishwasher, or tumble dryer, our team of skilled technicians is here to provide prompt and reliable repairs. With years of experience in the field, we specialize in fixing a wide range of appliances, ensuring that your daily routines are not disrupted and your appliances operate at their best. Trust us to deliver efficient and professional appliance repair services tailored to your needs in Nairobi.