Bosch Fridge Error Codes and their meanings
---
Bosch Fridge Error Codes
Specific error codes may vary depending on the model of your Bosch fridge. Refer to your refrigerator's user manual for the most accurate information. Here is a general list:
E01 or F01: Temperature sensor failure. This indicates a problem with the temperature sensor, which is responsible for regulating the fridge's temperature.

E02 or F02: Defrost sensor issue. This error code suggests a problem with the defrost sensor, which is crucial for preventing ice buildup in the freezer.

E03 or F03: Refrigerator door open. This code typically indicates that the refrigerator door is not closed properly.

E04 or F04: Freezer door open. Similar to E03/F03, this error code indicates that the freezer door is not closed correctly.

E05 or F05: Ice maker sensor failure. This error code points to an issue with the ice maker sensor, which controls the ice-making process.

E06 or F06: Water dispenser sensor issue. This error code is related to problems with the water dispenser sensor.

E07 or F07: Condenser fan failure. The condenser fan is responsible for dissipating heat from the refrigerator, and this code indicates a problem with the fan.

E08 or F08: Evaporator fan failure. The evaporator fan circulates air inside the refrigerator and freezer, and this error code suggests a malfunction with the fan.

E09 or F09: Communication error between control boards. This code indicates a communication problem between different electronic control boards in the refrigerator.

E10 or F10: Compressor issues. This error code suggests a problem with the compressor, which is crucial for the refrigeration process.
If you encounter any of these error codes on your Bosch refrigerator, it's recommended to consult the user manual or contact Bosch customer support for assistance. Additionally, some models may have unique error codes not listed here, so referring to the specific manual for your refrigerator is essential.
WASHING MACHINE REPAIR, OVEN REPAIR, FRIDGE REPAIR IN NAIROBI, COOKER REPAIR, DISHWASHER REPAIR, TUMBLE DRYER REPAIR, WATER DISPENSER REPAIR, TELEVISION REPAIR...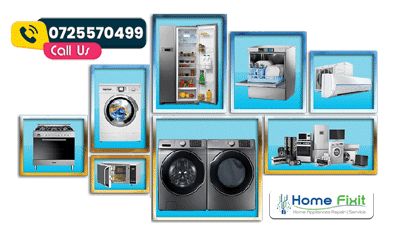 Get the best appliance repair services in Nairobi & Kenya. Whether it's a malfunctioning washing machine, refrigerator, cooker, oven, television, water dispenser, dishwasher, or tumble dryer, our team of skilled technicians is here to provide prompt and reliable repairs. With years of experience in the field, we specialize in fixing a wide range of appliances, ensuring that your daily routines are not disrupted and your appliances operate at their best. Trust us to deliver efficient and professional appliance repair services tailored to your needs in Nairobi.