LG Spare Parts in Nairobi, Kenya | Call 0725570499
---
LG Appliances Spare Parts: Keeping Your LG Appliances Running Smoothly
LG Electronics is a well-known global brand that manufactures a wide range of home appliances known for their innovation and quality. When it comes to maintaining and repairing LG appliances, having access to genuine spare parts is crucial to ensure the longevity and performance of your devices. Here is an overview of the types of LG appliances and their corresponding spare parts:
1. LG Refrigerators:
Compressor: The compressor is a vital component in a refrigerator, responsible for cooling. Replacement compressors are available to ensure your refrigerator continues to operate efficiently.
Thermostat: A malfunctioning thermostat can lead to temperature fluctuations. Replacement thermostats help maintain the desired temperature.
Shelves and Bins: LG offers replacement shelves, drawers, and bins to keep your refrigerator organized and functional.
Water Filters: For refrigerators with water and ice dispensers, replacement water filters are essential for maintaining water quality.
2. LG Washing Machines:
Drum Assembly: The drum assembly is a critical part of the washing machine. Replacement drums are available to address issues such as leaks or damage.
Drain Pump: If your washing machine is not draining properly, a replacement drain pump can help solve the problem.
Door Seal (Gasket): A damaged door seal can lead to water leakage. Replacing it ensures a watertight seal.
Control Board: Malfunctions in the control board can affect the machine's performance. Replacement control boards can restore functionality.
3. LG Dishwashers:
Spray Arms: Replacement spray arms ensure proper distribution of water and detergent for effective cleaning.
Racks and Baskets: Over time, dishwasher racks and baskets may become damaged or rusted. Replacing them enhances the dishwasher's usability.
Float Switch: If your dishwasher is overfilling or not filling at all, a faulty float switch may be the cause. Replacement float switches are available.
4. LG Ovens and Ranges:
Oven Elements: Heating elements can wear out over time. Replacement elements are essential for even cooking.
Igniters: Faulty igniters can prevent your oven or range from lighting. Replacing them ensures reliable ignition.
Thermostats: Oven thermostats are crucial for maintaining precise cooking temperatures. Replacement thermostats ensure accurate cooking.
5. LG Air Conditioners:
Filters: Clean air filters are essential for optimal air quality and energy efficiency. Replacement filters are readily available.
Compressor: The compressor is a critical component for cooling. Replacement compressors can extend the lifespan of your air conditioner.
Remote Controls: If your air conditioner's remote control is lost or damaged, replacement remote controls are offered for convenience.
6. LG Microwaves:
Turntable and Tray: Replacement turntables and trays help ensure even heating and cooking.
Magnetron: If your microwave is not heating food properly, a replacement magnetron may be needed.
Door Switches: Faulty door switches can lead to safety concerns. Replacing them ensures proper door operation.
LG offers an extensive selection of spare parts for their appliances, making it easier for consumers to maintain and repair their LG devices. When replacing spare parts, it's essential to use genuine LG parts to ensure compatibility and the highest level of performance and safety.
WASHING MACHINE REPAIR, OVEN REPAIR, FRIDGE REPAIR IN NAIROBI, COOKER REPAIR, DISHWASHER REPAIR, TUMBLE DRYER REPAIR, WATER DISPENSER REPAIR, TELEVISION REPAIR...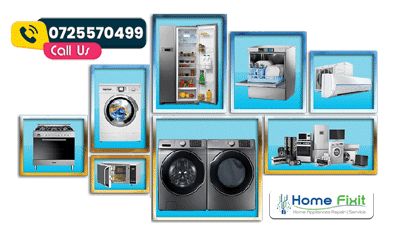 Get the best appliance repair services in Nairobi & Kenya. Whether it's a malfunctioning washing machine, refrigerator, cooker, oven, television, water dispenser, dishwasher, or tumble dryer, our team of skilled technicians is here to provide prompt and reliable repairs. With years of experience in the field, we specialize in fixing a wide range of appliances, ensuring that your daily routines are not disrupted and your appliances operate at their best. Trust us to deliver efficient and professional appliance repair services tailored to your needs in Nairobi.