Hisense Appliances Spare Parts in Nairobi, Kenya | Call 0725570499
---
Hisense Appliances Spare Parts: Ensuring the Longevity of Your Appliances
Hisense is a renowned brand known for producing a wide range of household appliances that make our daily lives more convenient. Over time, even the most reliable appliances may require maintenance or replacement parts to continue functioning optimally. Hisense offers a variety of spare parts to support their appliances, helping users extend the lifespan of their devices. Below, we'll explore some of the most common types of Hisense appliances and the corresponding spare parts available:
1. Refrigerators:
Compressor: The compressor is responsible for cooling the refrigerator. If it malfunctions, your fridge may not maintain the desired temperature.
Evaporator Fan Motor: This part circulates cold air throughout the fridge. If it fails, your refrigerator may not cool evenly.
Water Filter: Hisense refrigerators with water dispensers often require regular replacement of the water filter to ensure clean and safe drinking water.
2. Washing Machines:
Drain Pump: A faulty drain pump can lead to water not draining properly from the washing machine, causing issues with the wash cycle.
Door Gasket/Seal: If you notice leaks around the washing machine door, a damaged door gasket may need replacement.
Drive Belt: The drive belt powers the drum's rotation. A worn-out or broken belt can result in noisy and inefficient operation.
3. Dishwashers:
Spray Arm: A damaged or clogged spray arm can hinder proper dishwashing. Replacing it can improve cleaning performance.
Door Latch Assembly: If the dishwasher door doesn't latch securely, it may not run correctly.
4. Ovens and Ranges:
Oven Igniter: A faulty oven igniter can prevent the oven from reaching the desired temperature for baking or roasting.
Surface Element: Damaged surface elements on electric ranges can lead to uneven heating.
5. Microwaves:
Turntable Motor: The turntable motor ensures even cooking. A malfunctioning motor can result in unevenly heated food.
Magnetron: The magnetron generates microwave radiation for cooking. A defective magnetron can cause heating issues.
6. Air Conditioners:
Air Filter: Regularly replacing the air filter helps maintain air quality and efficient cooling in your Hisense air conditioner.
Fan Blade: Damaged fan blades can affect airflow and cooling performance.
7. Televisions:
Remote Control: If your TV's remote control stops working, you can easily find a replacement to continue enjoying your television.
When seeking spare parts for your Hisense appliances, it's essential to ensure that you purchase genuine Hisense parts from authorized dealers or reputable suppliers. Using authentic parts helps maintain the reliability and safety of your appliances.
Hisense offers a wide range of spare parts for their appliances, enabling users to prolong the life and performance of their devices. Regular maintenance and timely replacement of faulty components can help you enjoy your Hisense appliances for years to come.
WASHING MACHINE REPAIR, OVEN REPAIR, FRIDGE REPAIR IN NAIROBI, COOKER REPAIR, DISHWASHER REPAIR, TUMBLE DRYER REPAIR, WATER DISPENSER REPAIR, TELEVISION REPAIR...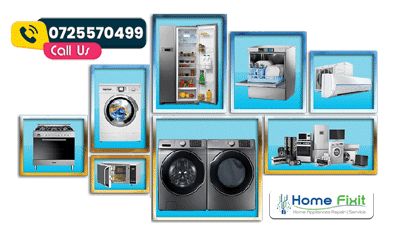 Get the best appliance repair services in Nairobi & Kenya. Whether it's a malfunctioning washing machine, refrigerator, cooker, oven, television, water dispenser, dishwasher, or tumble dryer, our team of skilled technicians is here to provide prompt and reliable repairs. With years of experience in the field, we specialize in fixing a wide range of appliances, ensuring that your daily routines are not disrupted and your appliances operate at their best. Trust us to deliver efficient and professional appliance repair services tailored to your needs in Nairobi.