fridge repair in syokimau 0725570499 freezer and refrigerator repair services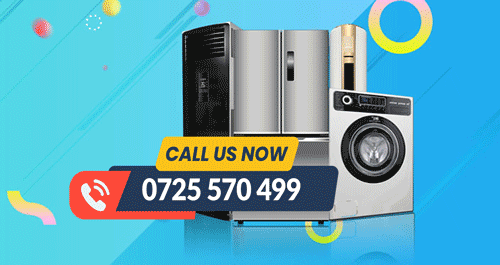 Are you looking for the best refrigerator technician in Syokimau, Nairobi to fix your refrigerator's gas filling and cooling issues? The one-stop shop for all of your refrigerator repair needs is HomeFixIt. Our professionals will refill your refrigerator's gas at a reasonable cost.
Fridge gas refilling and fridge repair solutions in Syokimau Nairobi, Freezer repair in Nairobi, refrigerator repairs. We are here to offer you quality services in home appliance installation, repair and maintenance. Experienced technicians are readily available.
We service and fix all makes and models of all brands including Samsung, LG, Ramtons, Ariston, Von Hotpoint, Frigidare, Amana, KitchenAid, Miele, Constructa, siemens, Aeg, Westinghouse, hisence, bosch, Electrolux, Fischer and paykel, haier, kelvinator, bruhm, Magic chef, Beko, Thermador, Wolf, Mika, Armco, IceCool, ashton meyers
Types include :
Top Freezer Fridge, Bottom Freezer Fridge, French door fridge, side by side refrigerator and Compact/ Mini/ Table Top /Bar Fridge.
We offer services such as:
Refilling the refrigerant.
Compressor replacement.
Maintenance and cleaning.
Repair or replacement of the evaporator.
Fridge and freezer problems include :
Fridge not turning on
Freezer not cooling
Defrost Not working
Compressor vibration too loud
Insufficient refrigerant
We solve cold room problems such as:
Some product is freezing
Some product is shrivelling
Some product is sweating or has free water on it
Product is displaying premature ripening, discolouring, loss of leaves (plants)
Product has odours or off-flavours
Product is rotting
Walls and/or ceiling are condensating
Walls and/or ceiling are mouldy
Walls and/or ceiling are rotting
Ceiling is dripping
Floor is drying out even if floor is sprayed with water
Inside air temperature fluctuates during storage period
Inside air temperature is warmer than desired during storage period
Inside air temperature is colder than desired during the storage period
Inside air temperature is not uniform
The storage air smells bad or is difficult to breathe
Evaporator coils are icing up and run a lot of condensate
Electrical consumption is rising
Freezers faults
can't turn on, Not keeping food cold
Leaks; Not cooling properly; Very noisy; Water dispenser not working; Defrosting issues
Fridge freezers, American style fridge freezers, Integrated fridge freezers, Undercounter fridges, Tall fridges, Integrated fridges, Undercounter freezers, Tall freezers, Integrated freezers, Chest freezers, Wine coolers
We have served on-site in:-
Lavington, Riverside, Karen, Runda, Muthaiga, Kilimani, Kilelesha, Ridgeways, Parklands, Kitisuru, Loresho, Spring Valley, Lower Kabete, Gigiri, whispers, Nyari estate, Nyayo estate, New Muthaiga, Lake View, Westlands, Langata Syokimau and kitengela, upperhill, Hurlingham, Utawala estate, Amboseli, Ruai and kamulu, Kaloleni Estate, Buru Buru, Rongata Rongai,Hill view, Embakasi, Donholm, south B, South c, CBD, Eastleigh, City park, Valley arcade, Valley road, University of Nairobi, Kileleshwa, Kitengela, Limuru, Ngong road.
Contact our HomeFixIt Nairobi technician on 0725570499.