Westlands Washing Machines
---
Home Fixit KE: Expert Washing Machine Repair Services in Westlands
When your trusty washing machine starts acting up, leaving your laundry chores in disarray, it's time to call in the professionals. Home Fixit KE, a renowned name in appliance repair services, is your go-to destination for top-notch washing machine repair in Westlands. With a track record of excellence and a team of skilled technicians, Home Fixit KE ensures that your washing machine gets back to its optimal performance in no time.
Why Choose Home Fixit KE for Washing Machine Repair?
Skilled Technicians: Home Fixit KE takes pride in its team of experienced and certified technicians who are well-versed in the intricacies of various washing machine brands and models. Whether you own a top-loading, front-loading, or high-efficiency washing machine, their experts have the know-how to diagnose and repair the issue efficiently.

Prompt Service: A malfunctioning washing machine can disrupt your daily routine. Home Fixit KE understands the urgency and aims to provide prompt and reliable service. They strive to schedule repairs at your convenience, minimizing the inconvenience caused by a broken washing machine.

Comprehensive Repairs: No matter the problem – be it a noisy spin cycle, water leakage, electrical issues, or anything else – Home Fixit KE has the expertise to handle a wide range of washing machine problems. Their comprehensive repair services ensure that your appliance is restored to its original working condition.

Genuine Parts: Home Fixit KE is committed to using only genuine and high-quality replacement parts for repairs. This ensures the longevity of the repairs and maintains the efficiency of your washing machine.

Affordable Pricing: Transparent and competitive pricing is a hallmark of Home Fixit KE. You can expect fair quotes for their repair services without any hidden charges.

Convenient Location: Home Fixit KE's location in Westlands makes it easily accessible for residents in the area. You don't have to go far to avail yourself of their exceptional washing machine repair services.

Customer-Centric Approach: Home Fixit KE values its customers and prioritizes their satisfaction. Their courteous and friendly technicians listen to your concerns, provide clear explanations of the problem, and offer recommendations to prevent future issues.

Warranty: Home Fixit KE stands by the quality of its repairs. Many of their services come with a warranty period, giving you peace of mind knowing that your appliance is protected.
Getting Your Washing Machine Repaired by Home Fixit KE:
Contact: Reach out to Home Fixit KE through their website or phone number to schedule a service appointment.

Diagnosis: A skilled technician will visit your location to diagnose the issue with your washing machine. They will provide you with a detailed explanation of the problem and the necessary repairs.

Repair: Once you approve the repair, the technician will proceed with fixing your washing machine using genuine parts and their expertise.

Testing: After the repair is completed, the technician will test the washing machine to ensure that it is functioning perfectly.

Customer Satisfaction: Home Fixit KE's ultimate goal is your satisfaction. They will ensure that you are pleased with the repair and answer any questions you may have.
Don't let a malfunctioning washing machine disrupt your daily routine any longer. Contact Home Fixit KE for reliable and professional washing machine repair services in Westlands, and experience the convenience of having your appliance back in top-notch condition.
WASHING MACHINE REPAIR, OVEN REPAIR, FRIDGE REPAIR IN NAIROBI, COOKER REPAIR, DISHWASHER REPAIR, TUMBLE DRYER REPAIR, WATER DISPENSER REPAIR, TELEVISION REPAIR...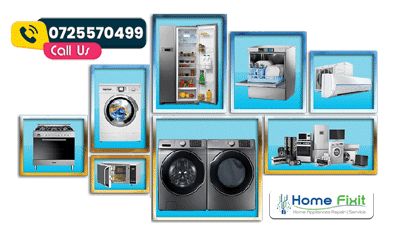 Get the best appliance repair services in Nairobi & Kenya. Whether it's a malfunctioning washing machine, refrigerator, cooker, oven, television, water dispenser, dishwasher, or tumble dryer, our team of skilled technicians is here to provide prompt and reliable repairs. With years of experience in the field, we specialize in fixing a wide range of appliances, ensuring that your daily routines are not disrupted and your appliances operate at their best. Trust us to deliver efficient and professional appliance repair services tailored to your needs in Nairobi.