Westlands Dishwashers
---
Dishwasher Repair Services in Westlands by Home Fixit KE
When it comes to modern conveniences in the kitchen, few appliances rival the efficiency and time-saving benefits of a dishwasher. However, like any complex piece of machinery, dishwashers can encounter problems over time. That's where Home Fixit KE comes in – a trusted name in appliance repair services, providing top-notch dishwasher repair solutions in the Westlands area.
Expert Technicians: Home Fixit KE boasts a team of skilled and experienced technicians who specialize in repairing a wide range of dishwasher brands and models. These professionals have undergone rigorous training and possess in-depth knowledge of dishwasher mechanics, making them well-equipped to diagnose and resolve issues promptly.
Comprehensive Repairs: Whether your dishwasher isn't draining properly, isn't cleaning dishes effectively, or is experiencing electrical malfunctions, Home Fixit KE offers comprehensive repair services. From minor glitches to major component replacements, their technicians have the expertise to handle it all.
Diagnostic Precision: One of the standout features of Home Fixit KE's dishwasher repair services is their diagnostic precision. Their technicians employ advanced tools and techniques to accurately identify the root cause of the problem. This approach ensures that the right solutions are implemented, preventing unnecessary replacements and saving you both time and money.
Transparent Pricing: Home Fixit KE takes pride in its transparent pricing model. Upon diagnosing the issue with your dishwasher, their technicians provide a detailed quote for the repair work. This eliminates any surprises and allows you to make an informed decision before proceeding with the repairs.
Quality Parts: When replacement parts are needed, Home Fixit KE only uses high-quality, manufacturer-approved components. This commitment to using genuine parts ensures the longevity and optimal performance of your dishwasher after repairs.
Prompt Service: A malfunctioning dishwasher can disrupt your daily routine and household chores. Home Fixit KE understands the urgency of the situation and strives to provide prompt service. Their technicians arrive on time and work efficiently to minimize any inconvenience caused by a faulty dishwasher.
Customer Satisfaction: Home Fixit KE places a strong emphasis on customer satisfaction. They go the extra mile to ensure that the repair process is seamless and hassle-free for their clients. With a track record of positive reviews and testimonials, they have built a loyal customer base in Westlands and beyond.
In conclusion, Home Fixit KE is your go-to solution for reliable and professional dishwasher repair services in the Westlands area. Their team of expert technicians, transparent pricing, use of quality parts, and dedication to customer satisfaction set them apart as a trusted partner in keeping your kitchen running smoothly. So, if your dishwasher is acting up, don't hesitate to contact Home Fixit KE and experience top-tier appliance repair services firsthand.
WASHING MACHINE REPAIR, OVEN REPAIR, FRIDGE REPAIR IN NAIROBI, COOKER REPAIR, DISHWASHER REPAIR, TUMBLE DRYER REPAIR, WATER DISPENSER REPAIR, TELEVISION REPAIR...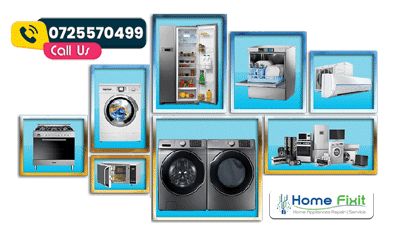 Get the best appliance repair services in Nairobi & Kenya. Whether it's a malfunctioning washing machine, refrigerator, cooker, oven, television, water dispenser, dishwasher, or tumble dryer, our team of skilled technicians is here to provide prompt and reliable repairs. With years of experience in the field, we specialize in fixing a wide range of appliances, ensuring that your daily routines are not disrupted and your appliances operate at their best. Trust us to deliver efficient and professional appliance repair services tailored to your needs in Nairobi.