Nairobi Television Repair
---
Television Repair Services in Nairobi by Home Fixit KE
In the bustling city of Nairobi, where modern life is closely intertwined with technology, a reliable and efficient television repair service is crucial for maintaining the entertainment and information lifeline of households. Home Fixit KE has emerged as a reputable and trusted name in the realm of television repair services, catering to the diverse needs of the city's residents.
Unveiling Home Fixit KE:
Home Fixit KE is a renowned provider of electronic repair solutions, offering a wide range of services including television repair. With a commitment to quality, professionalism, and customer satisfaction, Home Fixit KE has become a go-to destination for those seeking prompt and effective solutions to their television-related woes.
Expert Technicians:
At the heart of Home Fixit KE's success are their skilled and experienced technicians. These experts possess in-depth knowledge of various television brands, models, and technologies, allowing them to diagnose issues accurately and implement precise solutions. Whether it's a malfunctioning display, distorted audio, connectivity problems, or any other television-related concern, Home Fixit KE's technicians have the expertise to address them all.
Comprehensive Services:
Home Fixit KE offers a comprehensive range of television repair services, catering to both traditional and modern television technologies. Some of the services they provide include:
Screen Replacement and Repair: Home Fixit KE specializes in screen repairs, ranging from minor scratches to complete screen replacements. They ensure that the repaired or replaced screen maintains the original quality, providing a visually appealing and immersive viewing experience.

Audio Issues: Whether it's muffled sound, distorted audio, or complete silence, Home Fixit KE can diagnose and repair a wide array of audio-related problems in televisions.

Component Replacement: In the event of faulty components such as power supplies, circuit boards, or connectors, Home Fixit KE sources high-quality replacement parts to ensure the longevity and reliability of the repaired television.

Connectivity Problems: From HDMI ports to Wi-Fi connectivity, Home Fixit KE can resolve issues that prevent your television from seamlessly connecting to other devices or networks.

Software and Firmware Updates: Keeping your television's software up-to-date is crucial for optimal performance. Home Fixit KE can assist in updating and troubleshooting software and firmware-related problems.
Customer-Centric Approach:
One of the factors that sets Home Fixit KE apart is their dedication to customer satisfaction. They prioritize open communication, transparency, and fair pricing. Before undertaking any repairs, Home Fixit KE provides a detailed diagnosis and cost estimate, ensuring that customers are well-informed and empowered to make informed decisions.
Convenience and Accessibility:
Located strategically in Nairobi, Home Fixit KE offers convenient accessibility to their repair services. They understand the fast-paced nature of city life and strive to minimize downtime by providing swift turnaround times for repairs.
Home Fixit KE's television repair services in Nairobi have undoubtedly become a cornerstone for those seeking reliable solutions to their television-related issues. With a team of expert technicians, comprehensive services, customer-centric approach, and a commitment to quality, Home Fixit KE stands as a beacon of excellence in the world of television repairs, serving as a dependable partner for the city's residents in ensuring their entertainment needs are met with efficiency and professionalism.
WASHING MACHINE REPAIR, OVEN REPAIR, FRIDGE REPAIR IN NAIROBI, COOKER REPAIR, DISHWASHER REPAIR, TUMBLE DRYER REPAIR, WATER DISPENSER REPAIR, TELEVISION REPAIR...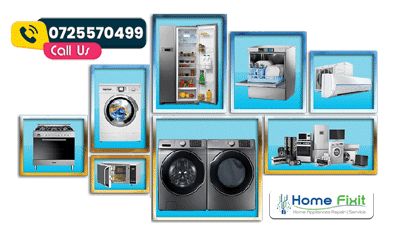 Get the best appliance repair services in Nairobi & Kenya. Whether it's a malfunctioning washing machine, refrigerator, cooker, oven, television, water dispenser, dishwasher, or tumble dryer, our team of skilled technicians is here to provide prompt and reliable repairs. With years of experience in the field, we specialize in fixing a wide range of appliances, ensuring that your daily routines are not disrupted and your appliances operate at their best. Trust us to deliver efficient and professional appliance repair services tailored to your needs in Nairobi.