Nairobi Washing Machines
---
Home Fixit KE: Expert Washing Machine Repair Services in Nairobi
In the bustling city of Nairobi, where modern conveniences are an integral part of daily life, a reliable washing machine is a crucial appliance for every household. However, like any machine, washing machines can encounter issues and breakdowns over time due to wear and tear. This is where Home Fixit KE steps in, offering top-notch washing machine repair services to keep your laundry routine running smoothly.
About Home Fixit KE:
Home Fixit KE is a renowned name in the appliance repair industry in Nairobi. With a reputation built on trust, expertise, and excellent customer service, they have become the go-to choice for many homeowners facing appliance malfunctions. Their team of skilled technicians possesses extensive knowledge of various washing machine brands, models, and technical intricacies, ensuring a comprehensive understanding of your appliance's needs.
Services Offered:
Home Fixit KE specializes in a wide range of washing machine repair services, catering to various issues that may arise with these appliances. Their services include, but are not limited to:
Diagnosis and Troubleshooting: The first step to any repair is accurate diagnosis. Home Fixit KE technicians employ advanced diagnostic tools to identify the root cause of your washing machine's problem, whether it's a malfunctioning motor, a faulty water inlet valve, or an electronic control issue.

Repairs and Replacements: Once the issue is identified, the skilled technicians at Home Fixit KE carry out necessary repairs or replacements using high-quality parts and components. Whether it's a belt replacement, pump repair, or fixing electrical connections, they ensure that your washing machine is restored to its optimal functioning.

Maintenance Services: Preventive maintenance is key to extending the lifespan of your washing machine. Home Fixit KE offers regular maintenance services, including cleaning, lubrication, and calibration, to keep your appliance in peak condition and reduce the likelihood of future breakdowns.

Brands and Models: Home Fixit KE's technicians are well-versed in handling washing machines from various brands, including but not limited to Samsung, LG, Whirlpool, Bosch, and more. They are equipped to repair both front-loading and top-loading models, as well as traditional and high-efficiency machines.
Why Choose Home Fixit KE:
Expertise: Home Fixit KE boasts a team of highly skilled technicians with extensive experience in washing machine repair. They stay up-to-date with the latest industry trends and technological advancements to provide effective solutions.

Prompt Service: Recognizing the importance of a functional washing machine, Home Fixit KE values your time. They aim to provide timely service, ensuring minimal disruption to your daily routine.

Quality Assurance: With a commitment to quality, Home Fixit KE uses genuine replacement parts and follows best practices in repair and maintenance, ensuring the longevity and reliability of your washing machine.

Customer-Centric Approach: Home Fixit KE prioritizes customer satisfaction. Their friendly staff is ready to address your concerns, answer your questions, and provide guidance on maintaining your appliance.
In a city where convenience is paramount, Home Fixit KE stands as a reliable partner for washing machine repair services in Nairobi. With their expertise, professionalism, and dedication, they ensure that your washing machine woes are swiftly and effectively resolved, allowing you to focus on what truly matters.
WASHING MACHINE REPAIR, OVEN REPAIR, FRIDGE REPAIR IN NAIROBI, COOKER REPAIR, DISHWASHER REPAIR, TUMBLE DRYER REPAIR, WATER DISPENSER REPAIR, TELEVISION REPAIR...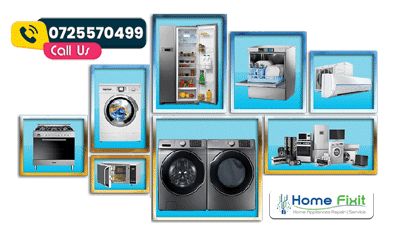 Get the best appliance repair services in Nairobi & Kenya. Whether it's a malfunctioning washing machine, refrigerator, cooker, oven, television, water dispenser, dishwasher, or tumble dryer, our team of skilled technicians is here to provide prompt and reliable repairs. With years of experience in the field, we specialize in fixing a wide range of appliances, ensuring that your daily routines are not disrupted and your appliances operate at their best. Trust us to deliver efficient and professional appliance repair services tailored to your needs in Nairobi.