Karen Washing Machines
---
Home Fixit KE: Your Trusted Partner for Washing Machine Repair Services in Karen
In the tranquil neighborhood of Karen, Nairobi, where lush greenery meets modern living, maintaining household appliances is essential for a seamless lifestyle. Among these appliances, the washing machine stands as a cornerstone of domestic convenience. However, even the most reliable machines can encounter hiccups over time. That's where Home Fixit KE comes to your rescue, offering top-notch washing machine repair services to keep your laundry routine uninterrupted.
Expertise and Experience: Home Fixit KE boasts a team of skilled technicians with extensive experience in repairing a wide range of washing machine brands, models, and issues. These professionals are adept at diagnosing problems, identifying faulty components, and providing efficient solutions that restore your washing machine to optimal functionality.
Comprehensive Repairs: Whether your washing machine is experiencing draining issues, spin problems, leaks, or electrical malfunctions, Home Fixit KE has you covered. Their comprehensive repair services encompass all major and minor problems that can afflict washing machines. From belt replacements and motor repairs to control panel troubleshooting, the technicians are equipped to handle it all.
Prompt Response: Home Fixit KE understands the inconvenience a malfunctioning washing machine can cause. With their commitment to customer satisfaction, they prioritize quick response times. When you reach out to them for assistance, you can expect a timely visit from their skilled technicians to assess and address the issue.
Genuine Parts: Using only genuine and high-quality replacement parts, Home Fixit KE ensures the longevity of repairs. This commitment to quality guarantees that your washing machine functions smoothly long after the repair is completed.
Transparent Pricing: Worries about hidden costs and unexpected expenses are a thing of the past with Home Fixit KE. They believe in transparent pricing, providing you with a clear estimate of the repair costs upfront. This transparency ensures that you know exactly what you're paying for, eliminating any unpleasant surprises.
Customer-Centric Approach: At Home Fixit KE, customer satisfaction is the cornerstone of their services. Their customer-centric approach emphasizes clear communication, reliable solutions, and respectful interactions. You can trust that your washing machine is in capable hands, and the technicians will go the extra mile to ensure your needs are met.
Convenience at Your Doorstep: With Home Fixit KE's mobile repair services, you don't need to worry about transporting your bulky washing machine to a repair shop. Their technicians come to your doorstep, equipped with the necessary tools and expertise to diagnose, repair, and restore your washing machine's functionality.
In the heart of Karen, Home Fixit KE stands as your dependable partner for washing machine repair services. Their dedication to excellence, prompt response, transparent pricing, and customer-focused approach make them the go-to choice for residents seeking reliable appliance repairs. With Home Fixit KE by your side, a malfunctioning washing machine no longer disrupts your daily routine – instead, it's a problem swiftly resolved, leaving you free to enjoy the serenity of your Karen home.
WASHING MACHINE REPAIR, OVEN REPAIR, FRIDGE REPAIR IN NAIROBI, COOKER REPAIR, DISHWASHER REPAIR, TUMBLE DRYER REPAIR, WATER DISPENSER REPAIR, TELEVISION REPAIR...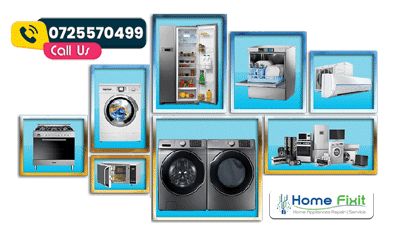 Get the best appliance repair services in Nairobi & Kenya. Whether it's a malfunctioning washing machine, refrigerator, cooker, oven, television, water dispenser, dishwasher, or tumble dryer, our team of skilled technicians is here to provide prompt and reliable repairs. With years of experience in the field, we specialize in fixing a wide range of appliances, ensuring that your daily routines are not disrupted and your appliances operate at their best. Trust us to deliver efficient and professional appliance repair services tailored to your needs in Nairobi.